Grass Field Maintenance in Vancouver
Vancouver Park Board has continued to scale back its field maintenance activity in the face of tighter city budgets and the escalating costs of labour and machinery.
Field users in Vancouver need to promote their cause to city and park board to ensure that sufficient resources are directed toward playing field repair and maintenance.
Email your thoughts to the Vancouver Park Board at pbcomments@vancouver.ca
Winter Weeknight Turf Allocation in Vancouver
For 100 years adult soccer leagues have operated in Vancouver with games on weekends and training during the week just as professional and amateur adult soccer leagues around the world operate. The introduction of lit synturf has revolutionalized youth soccer training and gameplay in Vancouver but shockingly adults have not been allowed to train on lit synturf. Lit synturf in all of Vancouver's neighbouring municipalities is allocated on winter weeknights after 8 pm to adult soccer training. In Vancouver, adult soccer players are forced to stick to elementary school gyms and lit gravel. Meanwhile, a new weeknight Ultimate turf league has sprung up.
Absolutely no winter weeknight turf has been allocated to adult soccer training at Van Tech, South Memorial, Jericho or Trillium . Primetime adult winter weeknight slots on Mondays, Tuesdays and Thursdays have gone to the Vancouver Ultimate League (VUL) or the for-profit operation, Urban Rec.
The VPB's 2002 Playing Field Renewal considered adult soccer size and longstanding use of field amenities when it called for the Vancouver Synturf program  including 6 new synturfs over three capital plans. VUL winter weeknight needs did not exist in the 2002 plan. More Vancouverites play adult winter soccer than winter ultimate. But somehow, VUL shoulder season expansion merits 50% – 75% of all winter weeknight turf allocation while adult soccer training merits none?
VPB staff advise that adult soccer training is allowed – its just that there is no supply to meet the demand for adult soccer training because all supply is used up supplying field users of higher priority – predominantly Vancouver Ultimate League players who have started to use lit synturf for winter weeknight gameplay.
Not only is brand new shoulder season weeknight expansion league for Ultimate prioritized over adult soccer training, the current allocation policy, which either did not exist in 2004, was not followed, or was interpreted differently, now gives the sport of ultimate a 2 to 1 allocation advantage over soccer when allocating synturf to uses currently deemed of equal priority such as ultimate gameplay and adult soccer gameplay.
This 2 to 1 advantage arises because from the Van Tech allocation forward, the VPB has used the number of teams in a sport to decide how much time a sport should get, regardless of how many players may be on a team for any particular sport. An ultimate team in general (after factoring in players playing on multiple ultimate teams) has half the players of a soccer team. Ultimate also runs four teams on one field versus two. In general you put 40 soccer players (two teams with subs) on a pitch and generally you put 40 ultimate players on a pitch (4 teams with subs). 40 players plus or minus on a pitch each but the VPB allocates twice as much turf per 40 players to Ultimate than soccer (because Ultimate has 4 teams on the pitch and soccer only has two teams)
In a nutshell, the current VPB synturf allocation methodology introduced without consultation in [2005] is critically flawed for three main reasons:
It allocates proportions based on the number of teams in a league, regardless of how many players that might entail for any particular support, nor how many games may be happening on a particular permit lot.  (This provides a 2 to 1 allocation advantage to ultimate over soccer.
It prioritizes the lowest levels of recreational gameplay over any form of training for excellence which is in direct conflict with the city's recently adopted sport strategy. (This has been raised and rebuffed at every synturf allocation meeting since [2005])
It ignores the cumulative effect of allocating multiple synturfs in exactly the same flawed way so that the an unfair allocation is repeated over and over again.
Hillcrest Park … Home of Westside Football Club
The Soccer Fields of Hillcrest Park
Until after WWII the area that became Hillcrest Park was a bog with house construction avoiding it. It was improved into a park and field sports started in the late 1940's. The Vancouver Curling Club, founded in 1925 in Vancouver's West End, relocated to Hillcrest in 1949. North America's "best little stadium", Nat Bailey Stadium, opened its doors in 1951. In 1951 Little Mountain Baseball was created at Hillcrest Park and became the very first chartered little league in Canada. The racquets club was established in 1953.
From the 1960s on all kinds of future Westside FC players (Westsiders) were playing Little League at Hillcrest – as the allstar program brought kids in everyone from across the City. Meanwhile top local and regional soccer was happening at Hillcrest and in Nat Bailey Stadium. Westside Football Club was established in 1978 and has had its home fields at Hillcrest since the 1980s.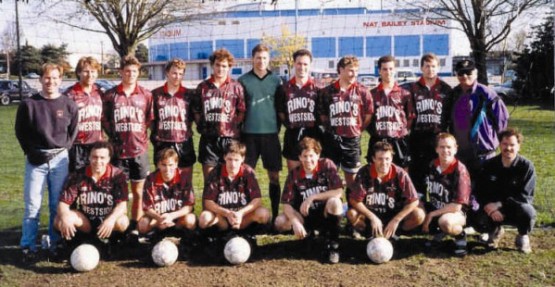 1993 BC and Canadian Champions, 1993-94 VMSL Premier League and Imperial Cup Champions
Coming soon …
2000 Hillcrest Master Plan
2003 Successful Olympic Bid
2004-2006 Hillcrest Master Planning
2006 to 2012 Impact of the Olympics
VPB / CoV / VANOC Future Commitments

Fisheye Photo by Marcello Pavan. Get larger version to fully enjoy the old fieldhouse 4 game panorama.

A few of the boys enjoying the old four game panorama from outside the fieldhouse in 2005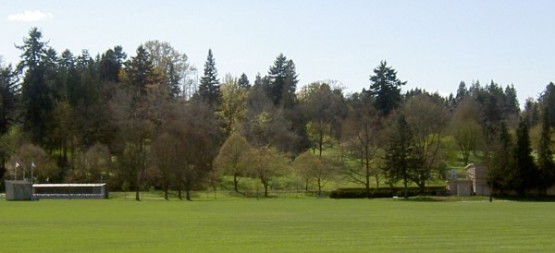 Last photo before the desecration of Hillcrest Centre and Hillcrest West in 2006